for iPad MID Table Pc Outdoor Sports Drycomp Ridge Sack 30L TPU summit pack waterproof bag aterproof backpack waterproof daypack-Glacier
Outside, super anti-abrasion!
Inside, excellent waterproof!
Seaming, firm and tenacious!
Bearing, tender and comfortable!
Your smart device requires a waterproof backpack
Thanks to a unique seamless construction and 2-way roll top sealing system, our backpack is 100% waterproof and suitable for quick submersion so you can take it out on the water.
We've stuffed this waterproof bag full of handy features too, like a large internal zip pocket (no more rooting around for keys!), elasticated front webbing and more .
We know that the things carried for travel must be in high quality, light-weight, flexible and easy to use. Therefore, we did a lot of strength tests to various waterproof backpack products in actual environments, including wind resistance, heat insulation, moistureproof, ageing resistance, water pressure resistance, etc. And on this basis, we developed strict production quality inspection standards to ensure that users can enjoy their ourdoor life. This year, in the original high-quality, we focused on the development of TPU serie products. The series is characterized by wrap small size, light-weight, easy to carry, abrasion proof and rich colors. I believe that these features will be a new round of selling points.
Perfect for water sports and all types of activities, the Waterproof Backpack protects your gear from water, sand, dirt and dust.
Roll-top 100% waterproof backpack | Floats safely if dropped in water Protects contents from dust, sand, dirt and water
Large outer elasticated mesh side pocket and a top carry handle | Large internal zip pocket
Unique 'High Frequency' welded construction Two-way sealing system (top or side) | Padded shoulder straps and lumbar support
Comfortable back panel with air-flow design | Elasticated front webbing | Adjustable sternum strap and waist belt
Ultralight, waterproof 102T nylon fabric, 420D nylon fabric for durable, reinforcement on bottom and around pocket,
Radio frequency welded seams for highly durable waterproof seals, roll-top waterproof closure; durable buckle secures roll top
Mesh back pocket with elastic stretch cording secures loose items and doubles as hydration sleeve
Two compression straps, spacermesh shoulder straps are supportive and breathable,and dual ice axe loops with shockcord ice axe keepers

PRODUCT FEATURES: Waterproof Roll-Top Closure Waterproof Reinforced Bottom and Back Pocket Radio Frequency Welded Seams Lightweight Internal Hydration Sleeve Durable Buckle Closure Durable Dual Adjustable Ice Axe Loops Compression Straps Bungee Cord Secures Crampons Breathable Mesh Shoulder Straps Air Bladder Back Panel 100% nylon, 102T, TPU // 100% nylon, 420D, TPU Dimensions (rolled): 12"*19.8"*6.2" 30 L , outdoor dry comp bag , backpacking , climbing , hiking , camping , alpine , backpacks , back packs , daypacks , day packs , summit pack , summit bag , waterproof bag , waterproof pack , waterproof backpack , waterproof daypack
* Guard against fraud,please buy from the distributors verified by Firstsing.
____________ About FIRSTSING Glacier Series waterproof bag (official sources)_______________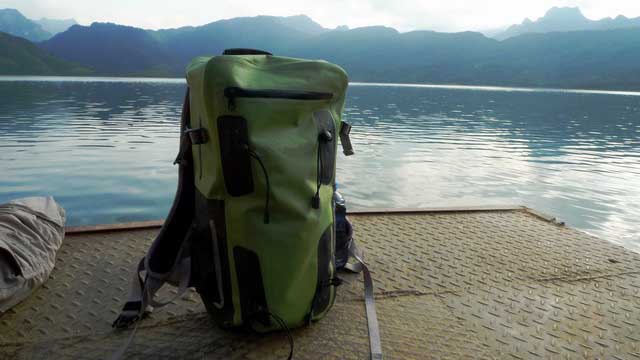 FIRSTSING waterproof bags are stylish, outdoor high-quality products, which include TPU and PVC series.
Glacier series are designed mainly for outdoor Glacier challengers. The product applies EVER SPORT composite fabric. In addition to a strong waterproof function, it has abrasion resistance, ultra weather resistance and other high performances. Meanwhile, it adopts industry agreed YKK series waterproof zipper, buckle, UTX super fastener. This permits the affairs in your bag to be fully protected in climbing, camping, rafting, river tracing, and other Glacier outdoor sports.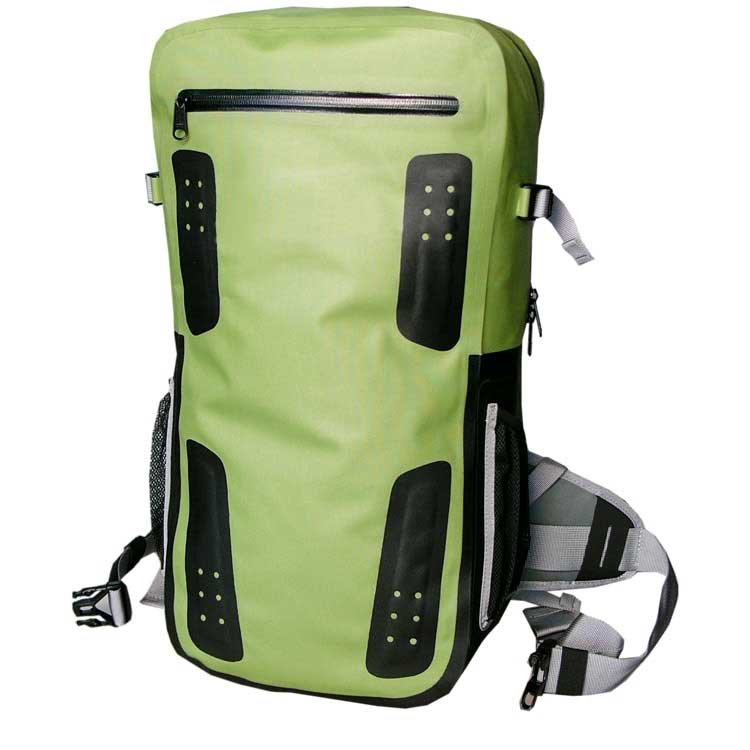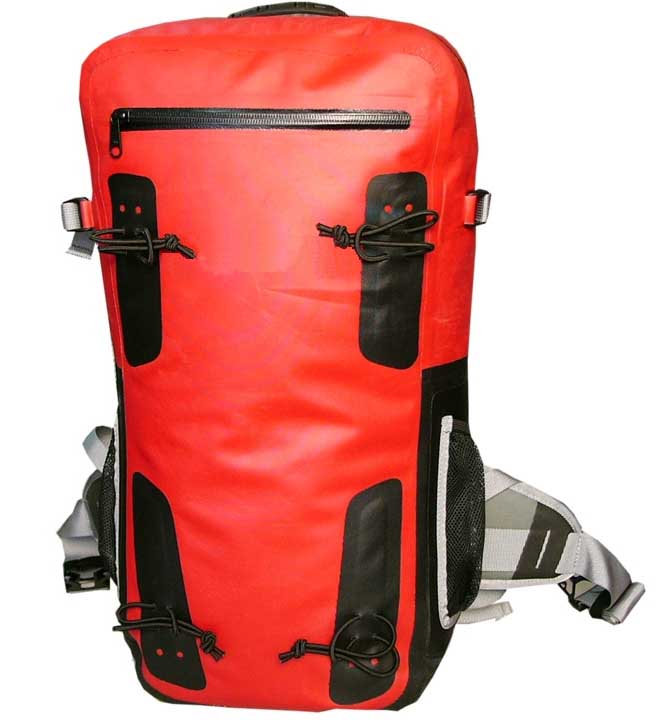 Specifications:
Name: OutDoor 30
Size: 12"*19.8"*6.2"
Capacity: 30L
Material: EVERSPORT ™ Fabric
Accessories: UTX-DURAFLEX fasteners, YKK waterproof zippers, buckles
Color: apple green / dark gray / black red / dark gray / black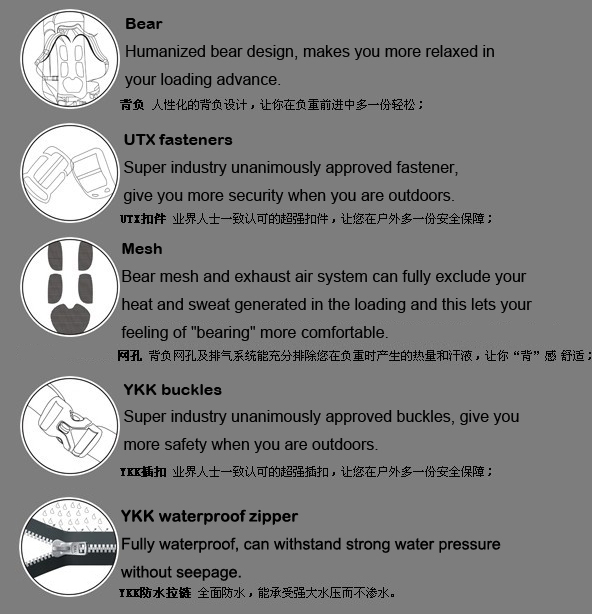 FIRSTSING Glacier 30 waterproof bag adopts fully waterproof design. There are many backpacks commercially known as fully waterproof, but most of them are only water repellent and they will become "completely non-waterproof" backpacks once submerged into the water. However, Glacier 30, which is made of EVERSPORT ™-TPU waterproof breath-holding fabric, seams using high-frequency hot-melt welding technology, can achieve the effect of leakproof.
EVERSPORT ™-TPU waterproof breath-holding Fabric Description (official):

EVERSPORT ™-TPU film, is ideal substitute to meet the OutDoor requirements of outdoor products. TPU
films are widely used in the textile, easy for lamination, and can be used in the most humid environments without losing strength. In the natural environment, compared with other levels TPU films, it has a better antibacterial properties. EVERSPORT ™ TPU film can also provide flame retardant grade in order to meet the most strict requirements of UL standards. Because of its abrasion resistance and durability, polyurethane is often a preferred material for marine and aerial materials that have stringent requirements.
High-frequency hot-melt technology: high-frequency is high frequency equipment, the electronic tube self-excite the oscillator to generate electromagnetic fields of high frequency. Plastic parts to be machined are between the top and bottom electrodes in the high-frequency electromagnetic field. Their internal molecules polarized do mutual movements and rub themselves, and the heat generated makes the plastic parts welded under the pressure of the mold. We can weld 2 or more plastic parts by using high frequency energy and make the materials generate heat and fused together through high frequency. Workpieces machined by this method of welding, have a same solidness as plastic parts themselves.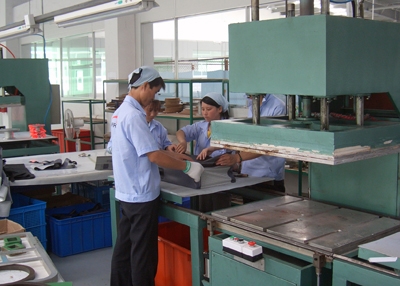 hot melt equiment for clamshell packing
According to the official sources, Glacier 30 backpack is specially designed for river tracing, canyoning, water sports and other Glacier sports. From fabric technology to production process, including the choice of accessories, it is designed for Glacier environments and use intensity. Then Glacier 30 is really qualified for the "rough work" ? Let's run around the valley to have a test.
The size of Glacier 30 :
Height 58cm * Width 26cm * thickness 12cm. Nominal capacity of the main compartment is 30 liters.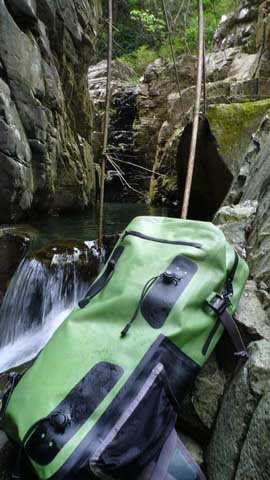 FIRSTSING Glacier series have also model 60, but from the perspective of river tracing, for the valley's plants are deep-rooted, and some sections of the valley require climbing, excessive weight would be more dangerous and will also affect the speed of passing through the jungle. Therefore, 30L capacity is suitable for light traveling and river tracing. Glacier 30's very simple design, benefits better your traveling through the dense vines in the jungle without being caught.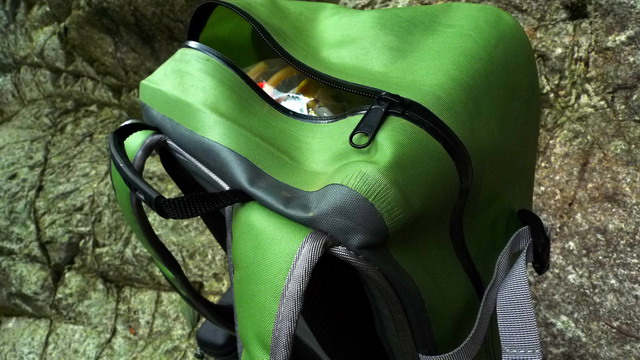 Glacier 30 has no top bag design. One YKK waterproof zipper up to 68cm is responsible for opening and closing the main compartment. Will the zipper become the weak point of the whole waterproof backpack? I distrust always the waterproof zipper and I have doubts about this. I once used YKK waterproof zipper for jackets and general outdoor backpack. I thought that this kind of zipper can only be water repellent, while the backpack for river tracing is often submerged into the water. So I put very cautiously the valuables into the waterproof bag when I test the Glacier 30's water resistance when swimming···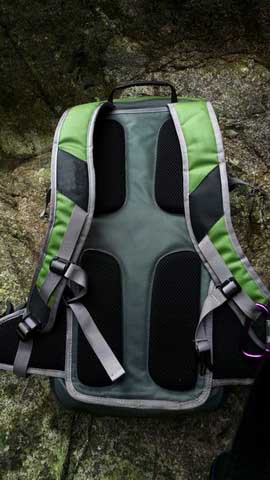 Glacier 30's bearing system, constituted by four protruding sponge cushion wrapped with nylon mesh (black part), is very simple but effective. Gray TPU fabric on the protruding sponge cushion form a "ten"-shaped cooling channel. Sweating is not too much in river tracing and other activities, so this simple heat dissipation system is sufficient. Ergonomically designed straps are not very thick, but because it is a small-capacity backpack, limited weight-bearing makes that straps don't need to be too thick. Thin straps can meet the comfort and has good quick-drying performance which will be described in detail.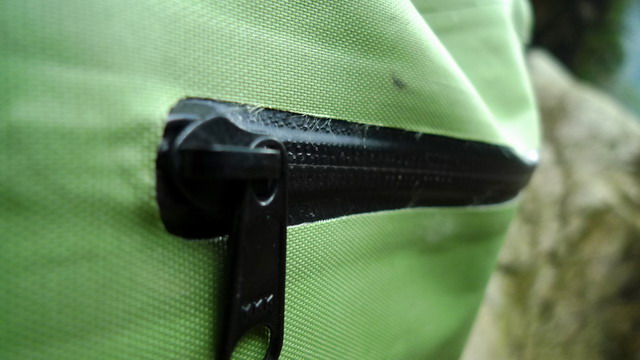 The outer compartment in rat bag design, a compartment with a depth of 43cm (incredible design, this deep outer compartment makes me entangled, because it's convenient to put things in, but painful to look for things or take things out. ) Rat bag uses a luxurious YKK waterproof zipper which closes tightly after a good pull.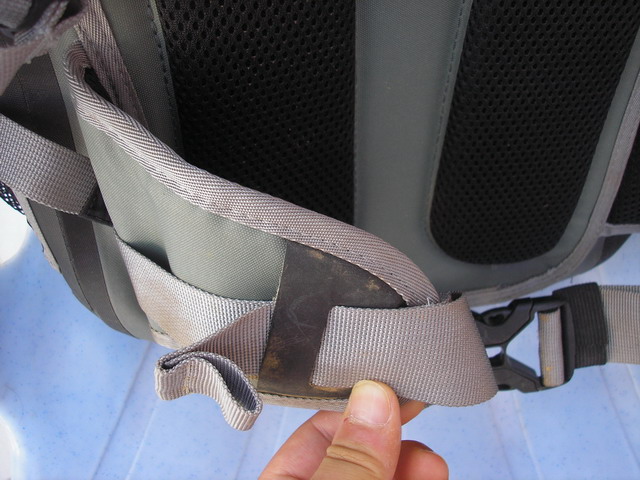 Belts relatively thin, but thin also means quick-drying and lightweight. Belts have specifically designed fixed cuts, so they will not hang on the waist, more agile without affecting operations.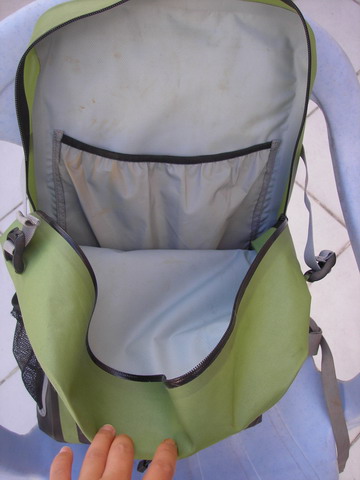 Unzip the Glacier 30 waterproof zipper, the structure inside is very simple, there is only one 23cm deep inner bag in the main compartment in which can be placed a small amount of drugs and knife sundries.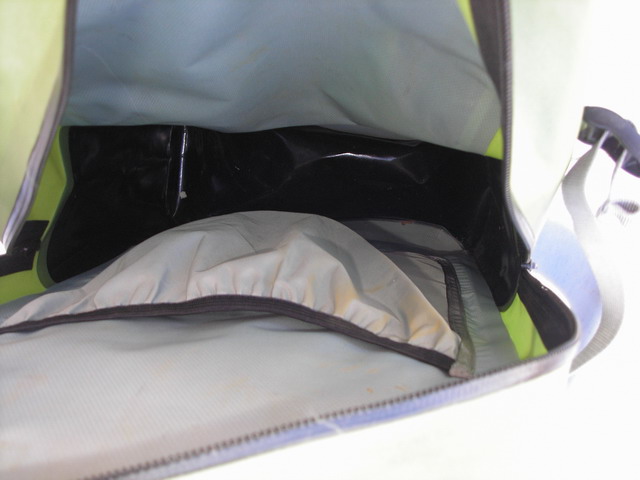 You can see the backpack's black base at the bottom of the main compartment. We can see that the EVERSPORT fabric of the backpack's base is a single layer, once cut, the waterproofness of the whole backpack will be greatly reduced.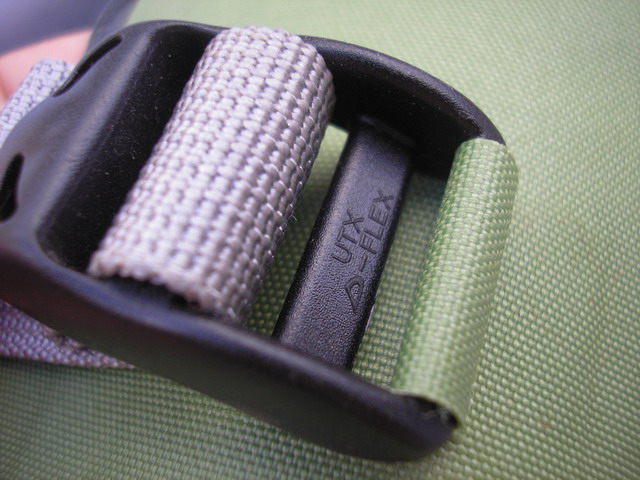 All nylon fasteners on the backpack are Duraflex and YKK fasteners. Materials chosen are Solid. The workmanship of the combined part between fasteners and backpack is exquisite. The interior is processed by hot-melt waterproofing, hot-melt patchs uniformly manicured. Every detail is meticulous.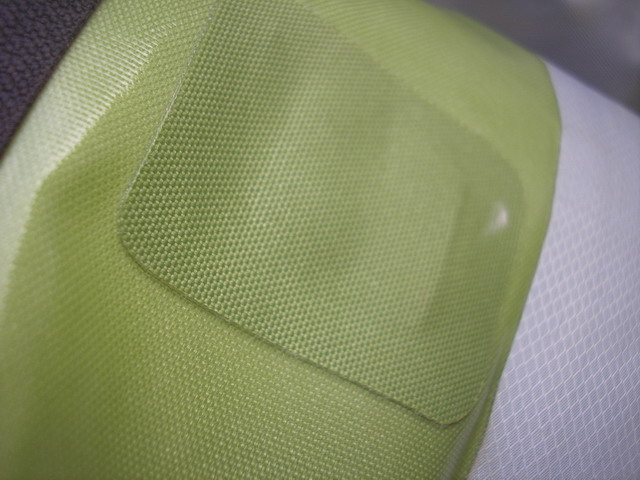 EVERSPORT ™ fabric processed by high frequency hot-melt welding, is indeed very strong. Of course, I did not try to use a knife to peel the welds, nor to tear it for testing the strength of the weld, and the reason is very simple - reluctant.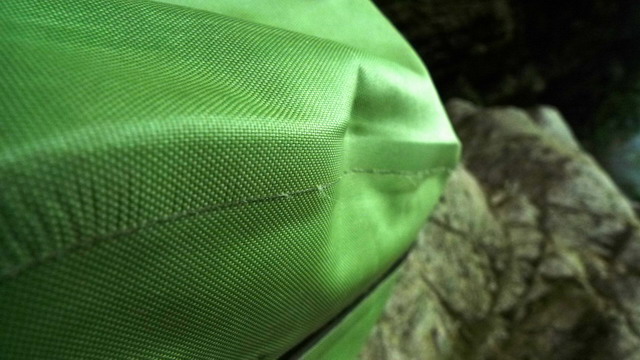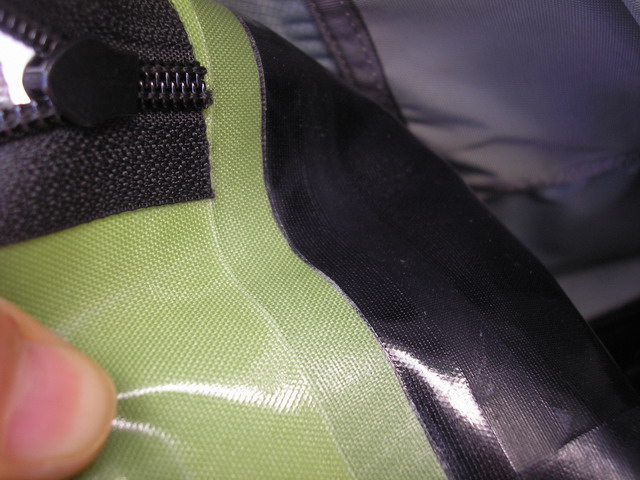 Look at the detail of the hot-melt welding, very neat. Between the green and black welds (inner), at the seams a waterproof adhesive is also added to ensure the watertightness. The workmanship is very neat. It's indeed a product from big domestic manufacturers.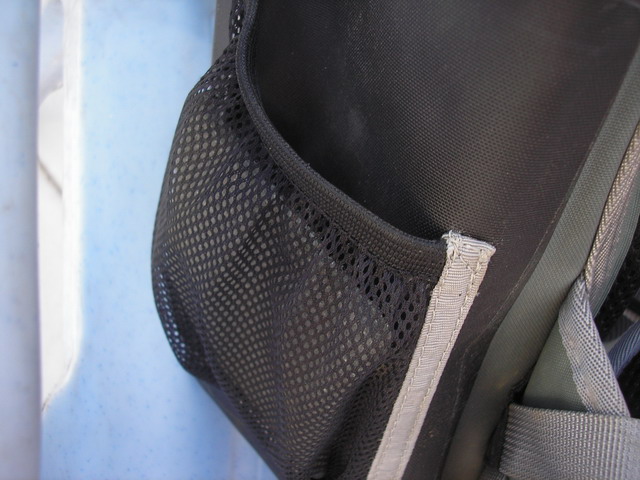 There are 2 mesh side pockets on both sides of the backpack, big enough to put in a bottle of 350ML mineral water.
Spray Test
We have many chances of encountering heavy rain outdoors. Glacier 30 in use will often encounter situations of climbing waterfalls, so spray test is essential. First of all, soak the Glacier 30 in a basin, make a storm by simulation with a shower head in maximum amount of water, test time 10 minutes.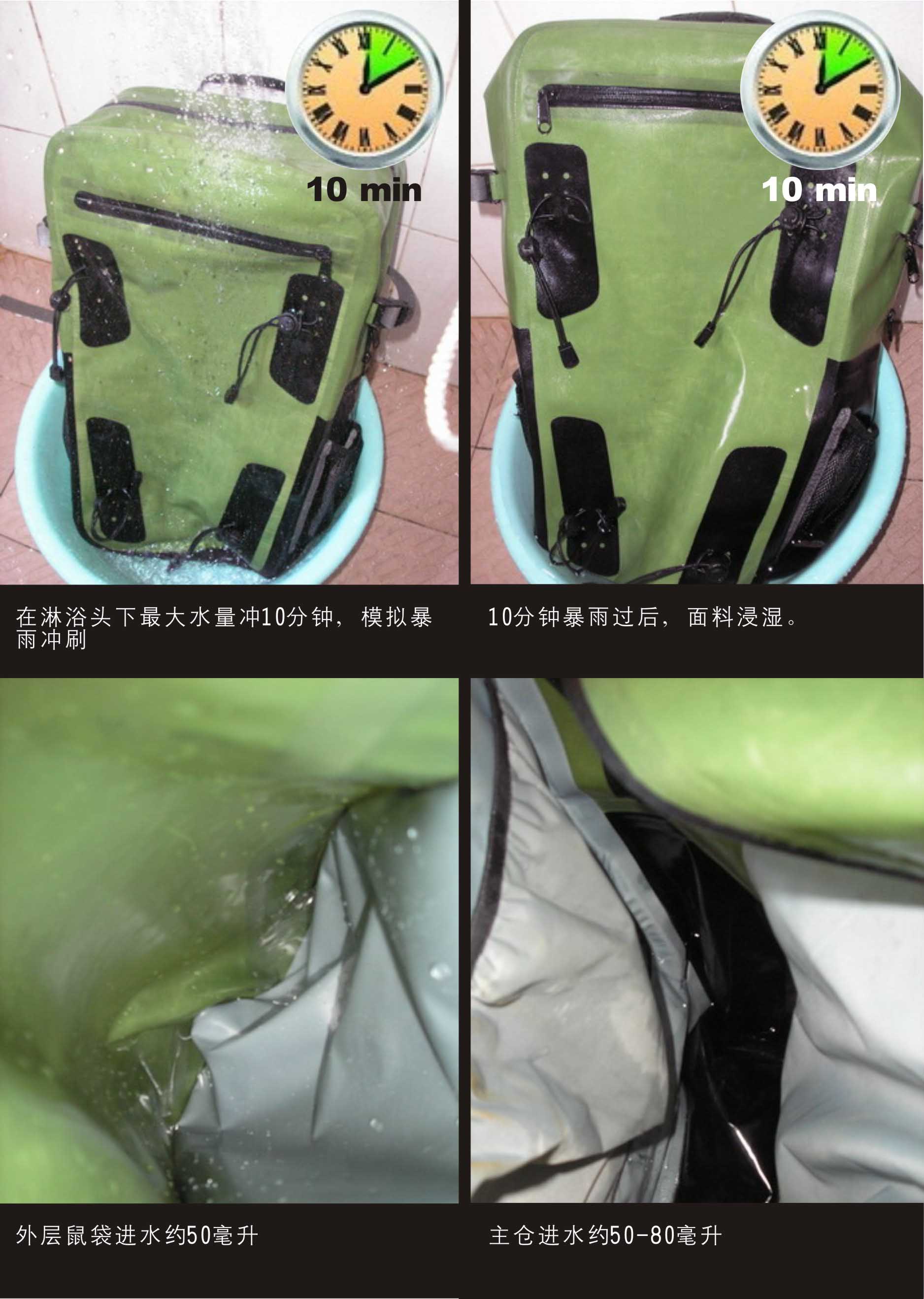 Wash the backpack under the shower head in maximum amount of water. 10 minutes after the storm, fabric soaked.
Dry the backpack in the shade under non-direct sunlight outdoor to examine the quick-drying performance of Glacier 30. Outdoor temperature 32 degrees Celsius. After 10 minutes, the external material is drying up.

After 20 minutes, the fabric is all dry, touch without feeling wet. There is a little watermark on the fabric in the internal bag, but sponge and straps for bearing are still wet.
Dry another surface. 30 minutes later, straps and sponge are dry.The quick-drying performance of the fabric used by Glacier 30 is really tough.
The quick-drying of EVERSPORT fabric is impressed, especially the body parts, water absorption almost negligible. The wet feeling is not obvious if touch. Although straps dry a little slower, but good enough to make people satisfied.
___________ About FIRSTSING Glacier 30 Measured Section _______________
The workmanship of Glacier 30 is very fine, commendable, but can Glacier 30 bags withstand the test of savage ravine activities? The end of August, after disturbance of two typhoons, Zhongkong Valley activities finally came ture. The beautiful Zhongkong Valley became an ideal test place of Glacier 30 backpack.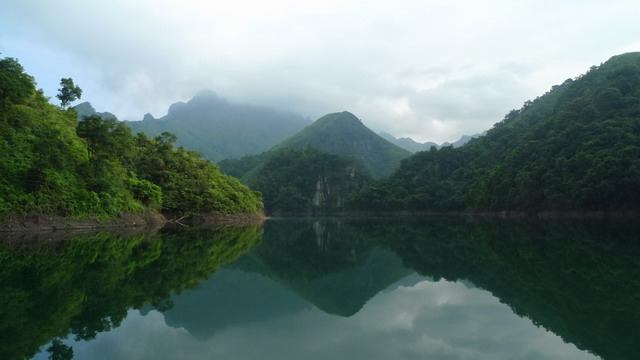 In small crystal clear pools, fully waterproof backpack's advantages manifested. Previously I used an ordinary mountaineering backpack with waterproof bag, from which it's difficult to extract affairs. And now, in addition to a waterproof bag for clothing, other items can be placed directly in the backpack. It's very convenient to take out things. While wading, the backpack almost increase no weight. Unlike before, the backpack is like a piece of wet cleaning cloth, dripping water drops all the way.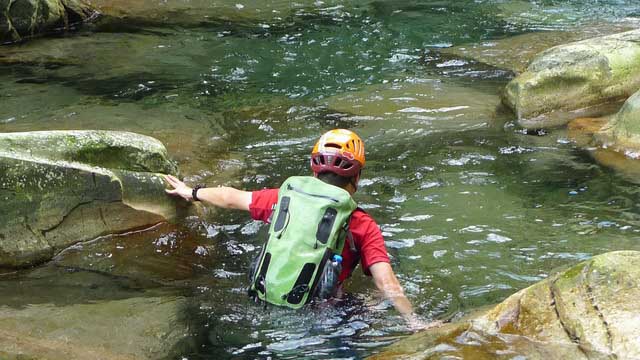 In deep pools, we need to swim across. Glacier 30 backpack because of its good water resistance, did not increase the burden of swimming, but on the contrary, provide some buoyancy like a balloon. Basically, we won't sink when bearing Glacier 30 backpack. But we'll swim more strenuously and slowly, because the backpack increases the resistance.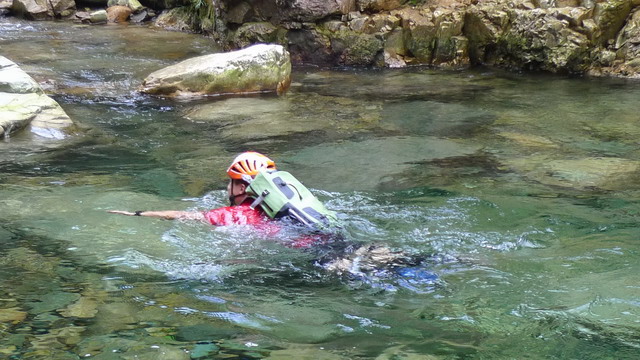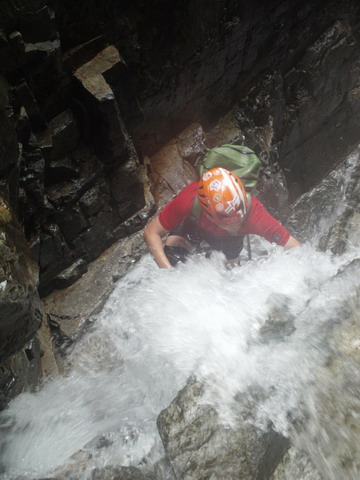 When climbing waterfalls, as waterproof measures are well done all the body, I can pass across water and mountains smoothly. Out of the water, leaving no traces of water and mud, I truly become an amphibian.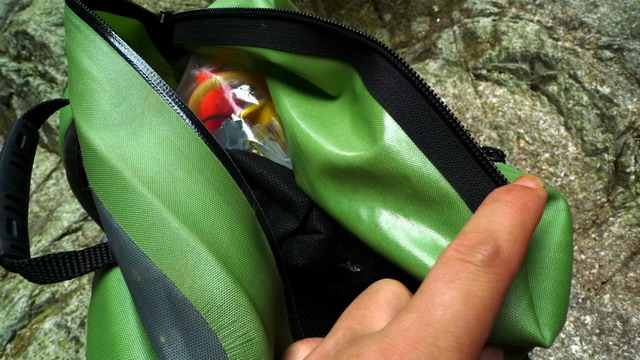 After wading, swimming, climbing and a series of tossing, opening the main bag, I found inside the water, and poured out from the main bag nearly 200ML water. Fortunately valuables were put into a waterproof plastic bag and waterproof bag, otherwise the consequences can be imagined: no dry clothes for change.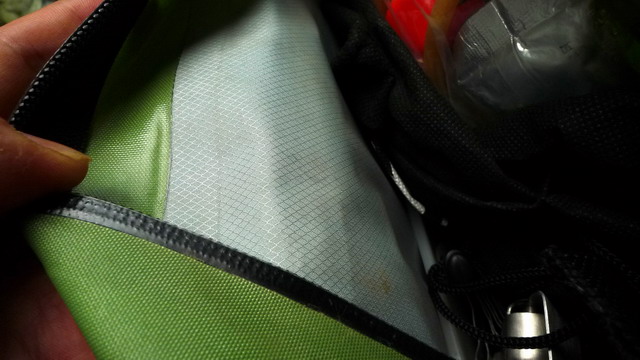 Ripstop EVERSPORT materials are also wet, I was sad. I had the heart to the moon, but the moon shines on the ditch.
Stones in the valley are very slippery. I fell, and mesh side pockets were scraped on the stone. So the fine nylon mesh seems can not stand the rub of stones in the valley. Designers of Glacier 30 seriously underestimated the strength of stream activities and harsh usage environment.
After careful examination, I found that the bottom was pierced by sharpe object, leaving two hole. Part of the 200ML water flooded in main compartment, entered through the two holes. The bottom needs to be thickened to resist sharpe stones. Designers of Glacier 30 should experience river tracing and canyoning activities in order to better improve Glacier 30.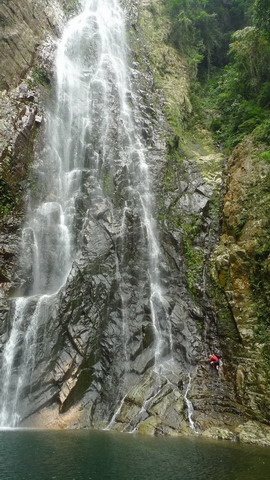 After using Glacier 30 Waterproof Backpack, I felt deeply waterproof backpack advantages in wading activities. Although waterproofness of Glacier 30 did not achieve the desired effect, one flaw can not obscure the splendor of the jade. Glacier 30 waterproof backpack's convenience and quick-drying have deeply influenced my ideas about choosing outfit. I believe that in the near future, domestic waterproof backpack can fully meet the needs of wading activities and keep up with the world's leading professional waterproof brands. Glacier 30's materials and workmanship are very solid, and the problem lies in the design. Designers underestimated the intensity of outdoor stream activities. This leads to the defects in the design: the section that needs to be reinforced is not strengthened, which results in complete uselessness of waterproof structure. I hope this report will provide some help to FIRSTSING's new products.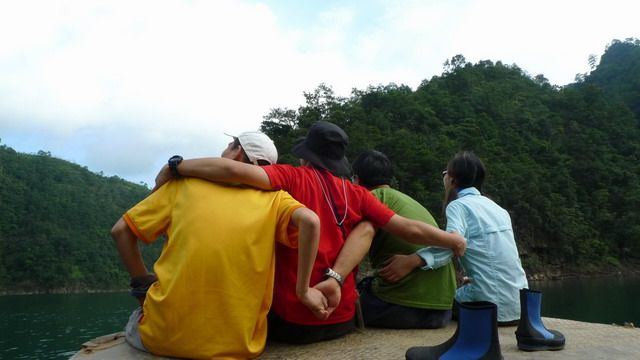 Advantages:
1. Simple structure, easy to use, no complicated redundant design
2.EVERSPORT fabric can achieve completely waterproof effect.
3. Simple to bear, practical, dissipate heat rapidly in movements, backpack that fits well the body can help to finish climbing and other movements.
4. Amazing quick-drying performance, leaving no traces of water and mud
5. Lightweight and comfortable straps
6. fabric no smell
Disadvantages:
1. Long waterproof zipper of the main compartment affects waterproofness.
2. Outer rat bag is too big to look for and take out things.
3. Bottom not thickened, unable to resist the rub of rocks.
4. Nylon mesh of side pockets too small too fragile, easy to be breaked
5. Side pockets are shallow, items put inside drop out often.
Conclusion: A very promising domestic quality product, from Glacier 30's workmanship, we have seen the shadow comparable with first-class products. I hope that Glacier 30 will be improved, waiting for improved model to change outfit.